African food business is a powerful approach in many aspects if you think about doing business in Africa.
You see, here is why: agriculture and fast-moving consumer goods (FMCG) have been identified as the two fastest growing sectors in Africa in the coming decade or so (Ernst & Young).
So when you talk about food production in Africa – you really combine both top growth sectors.
Furthermore, everyone in Africa and in the world has to eat, every single day. The demand for food is constantly growing. Many African governments have prioritized agriculture and value addition (the processing and manufacturing of food products for example), which means you will also increasingly step into an enabling business environment for this sector across the continent.
Today I want to share an interesting short article & video that I found on allafrica.com. It just demonstrates wonderfully that food production in Africa is a business model with future: The African Development Bank (AfDB), an institution that usually takes on million Dollar projects, has reached out to African food entrepreneurs. And it has gone public in a quest to help diversify African economies – away from imports and an overly dependency on mineral exports.
The video even mentions the potential for African cuisine to develop and go global – something you hardly ever hear about.
It just demonstrates beautifully how we have to take on the continent's transformation one step at a time.
But before I share the article and in particular the inspiring video with you, I want to make you aware of two important facts when you go into the food business:
If we talk about food entrepreneurs, we talk about different roles in the value chain, but 'food manufacturer' and 'chef / restaurant owner' may come to your mind immediately.
Here is what you need to keep in mind: while both can be hugely successful in Africa if the business is implemented the right way, there is one important difference:
And that is the potential for scalability in Africa and faster growth.
It is usually much easier to scale the manufacturing process, because if the demand is there for a certain food product, your existing clients will simply order more and you will easily find new buyers – based on that expansion is straight-forward even if that means you need to expand your manufacturing capacities. You simply have a high potential for scalability within national borders and across borders, which is key to faster financial success and you will find enormous space for that in Africa.
When opening a traditional restaurant it's not so easy. The one restaurant you build can only have so many customers eating in it (and even that can take time) and if you want to scale, you need to open another restaurant at another location from scratch and often win hearts again in that area – in particular if you want to go across borders within Africa. A new trend however that is being witnesses in larger African cities is that of popular local fast food or coffee shop chains and franchise businesses, a concept that would increase the potential to scale, but usually requires enormous investment to be realized.
So keep that in mind – it will help you make informed decisions.
Read also: 5 Ideas To Start A Profitable African Food Brand Business In Your Own Kitchen….Next Week.
And here is the new article and video bringing the latest developments to your door step! Enjoy!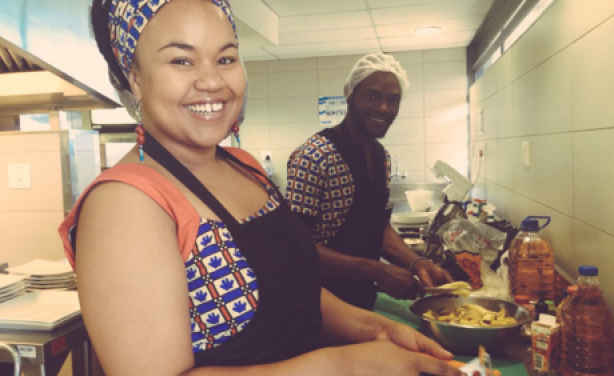 [ Photo: Chefs Kate Muwoki (Zambia) and Heritier Makonga (Congo) run Kitoko Kitchen. They are part of a growing number of African culinary creatives and entrepreneurs.] "African food is amazing and so diverse… but it is very underrated," says South African chef Mokadi Itsweng. Mokadi, part of a growing number of African chefs and food entrepreneurs, met with the African Development Bank (AfDB) to discuss using the culinary arts to bring global and regional value to Africa's agriculture products, creating the kind of new value chain activities and productivity needed to propel Africa's economic transformation. "We see food as part of a value chain," says Geraldine J Fraser-Moleketi, AfDB's Special Envoy on Gender. "We see the culinary creative industry as quite critical… the bank is trying to open a door in a sector that fits squarely in the 'Feed Africa' agenda."
To sum it up. Here are the compelling reasons why you should start an African Food Business
1. You are tapping into the two fastest growing sectors in Africa: agriculture & fast moving consumer goods
2. Demand for food will continue to grow: Everyone has to eat, every day – in Africa and the world.
3. You will be among the first movers in a market, which can give you a significant competitive advantage
4. You will directly impact on the lives of farming communities, decrease foreign food imports, create jobs in Africa, and contribute towards Africa's food security.
5. You will step into an enabling business & investment environment because African governments at large strongly support food manufacturing locally.
If you want to start an African food manufacturing business consider to register now for my African Business & Investment Missions to Ghana and Rwanda this year. Spaces are extremely limited.