Welcome to

Africa Business Jumpstart !
It is great to see you here at our Africa Business Jumpstart community and I would love to take this opportunity to tell you a little more about this platform, about myself, and how I may be able to assist you with your own Africa business ambitions.
But first I want to ask you something:
Do you want to do business in Africa or create African wealth through similar avenues, but you simply don't know how to get the whole thing started the right way?
Maybe this has even been a dream of yours for some time, but you are not ready to leave the US or Europe and move to Africa, you may worry about limited capital, or you simply don't have the necessary support to get your vision off the ground?
Do you have a business idea already, but you are not sure if it is the right one? You may also worry about choosing the right market, and how to build your network.
Maybe you even got started already, but progress is slow or you run into unreliable business partners.
Do you want to make an investment in an existing local company in Africa, but you have no strategic plan in hand?
Great! You are at the right place !
Hi, I am Dr. Harnet and I assist ambitious and heart-centered professionals, entrepreneurs, and business owners in the Diaspora to start doing business in Africa and investing on the continent. I will show you success strategies, practicable action-steps, and rare insight, so you can be empowered to take immediate leaps. You will finally be able to make INFORMED decisions faster and more confidently and create and amazing business and lifestyle, while contributing towards Africa's future.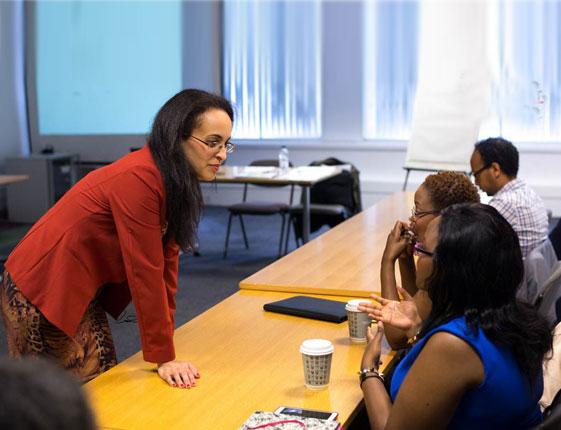 As you now probably know, I am the founder of Africa Business JumpStart and I would love to welcome you here on our community platform!
In the past, I have lived and worked in Great Britain, Eritrea, Sudan, and Germany, mostly as a Senior International Development Consultant for Africa where I worked in UN, EU, and Oxfam funded programs for 13 years. After having my two little children and getting increasingly frustrated with the mainstream approach of 'helping Africa', I decided in 2012 to shift from the traditional development context towards African entrepreneurship. My plan was to build an African online coaching and consultancy business, as it would allow me to work from home and from anywhere in the world when I had to travel.
So I browsed the web to find information. I needed to find out what niche to choose and how to get it all started, and all that while still being based in the Diaspora (at least for now). But to my disappointment, most of the market information out there was data on multi-million Dollar investment projects! It seemed so irrelevant to my own ambitions and undertakings, because it did not provide me with any actionable steps or concrete clues.
I researched and filtered, researched and filtered… – rather obsessively I have to add. I compared markets, followed success stories, and analysed business insights and after a few months I thought I had become somewhat of an expert. I knew more than the average person about doing business in Africa, that was for sure, and I wanted others to get access to that 'hidden' knowledge in one place – neatly packaged, easily communicated, and convenient.
And here I am four years later….
Today, I work foremost as an Africa Market Entry Strategy Consultant, Business Coach & Speaker ready to assist you to jumpstart your Africa business from where ever you are. Helping you to build smart Africa business concepts and entry strategies that make the most of trending developments and stand out from the competition is my forte.
I  have followed successful Africa entrepreneurs on the continent, and have helped entrepreneurs and companies with market entry in Rwanda, Kenya, and Ghana. I am also the co-author of the book '101 Ways To Make Money In Africa', I regular write for the renowned Africa business site howwemadeitinafrica.com, moderate and present on Africa business events, and have written for Forbes Africa, the Africa Club of Air France / KLM, and the renowned Africa CEO Forum.
Why you should become an Africa entrepreneur
You see, right now, you can seize an amazing lifetime opportunity of being at the right place at the right time: Africa is at present officially the world's second fastest growing region and the sharp rising demands in this new emerging market can currently not be met efficiently by supply. This situation opens a huge array of business prospects and potential for high financial returns. This frankly means that you can become financially hugely successful in a much shorter period of time – if you get things right. This is a golden opportunity to set up a successful business while serving Africa at the same time, but this window will not be open for too long, so, there is definitely a sense of urgency in it. Foreign companies are now moving in – are we as Africans? The right timing is now, not in a few years down the road. Having a sense of urgency will significantly contribute to your success in Africa.
.
So, what's holding you back?
What is holding you back to start a business in Africa given the amazing potential? Lack of awareness and information? Worries about political leadership, corruption, and other risks in Africa? Lack of Capital? Lack of time to get a business going while you work in another job? Worries about relocating your family or giving your security up in the West? Not knowing where to start and how to make the right decisions confidently?
This is where Africa Business JumpStart comes in!
Would it not be amazing if you ran a business that you passionately enjoy while making great money from it, building the kind of lifestyle that you deserve, and contributing to the needs of Africa at the same time?
Regardless, if you have never started your own business or you run a business already, here are some tough facts: Around 50% of businesses opened in the West don't make it through the first year of trading, and over 75-90 % don't exist 5 years after launch! Much of it is down to poor planning, poor strategizing, and very competitive markets.
Doing business in Africa is similarly challenging for us: We have no time, we are overwhelmed with the information (or the lack thereof), and have no business advice service or guidance available that we would get in the West. Consequently, we put the idea on hold or make rushed decisions, poorly prepared. Many have failed as a result.
But it does not need to be that way.
I am committed to help you start doing business in Africa the RIGHT WAY. I help you cut down TIME, RISK, and related COST.
I want to support you on your journey towards wealth creation and the manifestation of a fulfilling lifestyle….while positively contributing on the lives of others in Africa. Today.