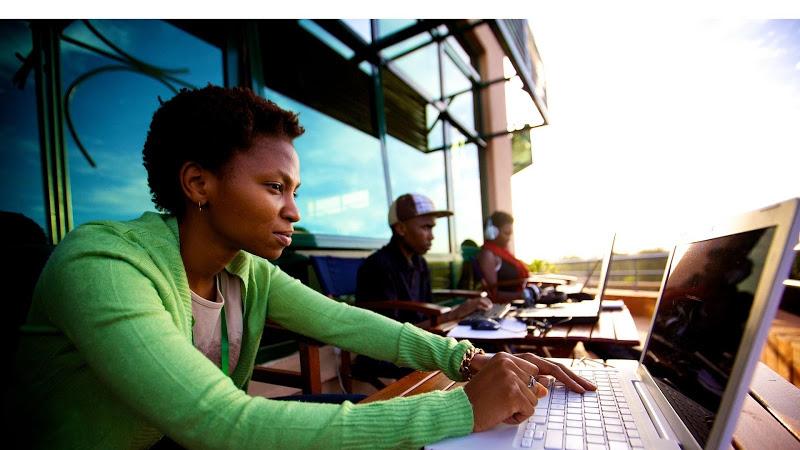 From Paris to … Washington DC. You know that I am a great proponent of Africa business events of all sizes and shapes. It is one of the best strategies you can use to research, position yourself, network, promote, find partners, and simply meet like-minded souls who can help you to progress on your paths towards Africa business success. 
African tech in particular is making a grand debut – and Europe seems to lead this year in this regard. Three NEW powerful conferences and events have emerged!
The ones in Paris and London are African tech conferences that are integrated in larger renowned international tech events for the very first time. This is huge for all of us.
I am also very proud that I personally know the leaders and organisers of these two African tech conferences – they are Haweya Mohamed originally from Somalia & Ammin Yousouf from Burkina Faso of Afrobytes.com for the Paris event, and Eunice Ball from Uganda of Africatbn.com for the London event. And they are all start-ups! But here is the thing: above all, they are incredible visionary go-getters and pioneers  and have hence already become respected leaders in the African tech space liaising now with high-profile stakeholders in the industry and beyond.
For everyone who is interested in African tech, these events below are not to be missed! And for the rest, please share this post widely anyway. Let us get the word out and support these amazing young African tech efforts in the Diaspora linking Africa with the rest of the world!
Here are some of the best African Tech Business Events for the Diaspora in 2016!

Washington DC – MAY 27
The Young Africans Professional  Network invited you to join them for a conversation with entrepreneurs Jehiel Oliver and Martha Haile, two individuals working to increase food and income security in sub-Saharan Africa. They will share with us how they are driving change through the use of affordable "Smart Tractors," and connecting their owners with farmers paying for timely tractor services via SMS.
More details and registration here.

PARIS,  JUNE 9 – 12 
From 9th to 12th June 2016, join a bunch of people who truly believe that the next big digital and human adventure will take place in Africa. It is where you will learn and share about the latest trends of the African innovation ecosystem.
We gather startups, tech talents, investors, executives from Africa and Europe with passion for growth and innovation interested in initiating dialogue and build roadmaps for action.
Join a great lineup of speakers and tech leaders. from Africa and Europe!
More details and registration here.
.

LONDON – JUNE 22
The Africa Technology Business Forum is a one day conference @ The London Tech showcasing the most exciting technology opportunities that are unfolding across the African continent to the UK business, investor and entrepreneur community. 
Join over 120 experts, investors and professionals from the Banking, Finance, Venture Capital, Private Equity, Impact investment and the Mobile/Telecom sectors for a dynamic programme which includes informative panels and keynotes, expert-led round table discussions and an exciting startup innovation showcase.  
VENUE: Addleshaw Goddard, Milton Gate, London
More details and registration here. 

BRUSSELS – SEPT 21 (deadline for start-up applications June 15!)
The DAW team is so pleased to announce the debut of the FIRST EDITION of The Digital African Woman!!
Up to 200 professionals interested in the ecosystem of African and Diaspora female lead tech start-ups and business innovation will attend this program on Wednesday &Thursday September 21st- -22nd 2016, this event focuses on promoting female lead tech start-ups through specialized business training and workshops. With inspiring panel discussions and keynote speeches from our leading #womenintech.
This is the international event for all Tech Start-ups, entrepreneurs, corporates, women in tech & entrepreneurship, policy makers and beyond; who are passionate about creating an ecosystem for the African and diaspora female lead tech start-ups!