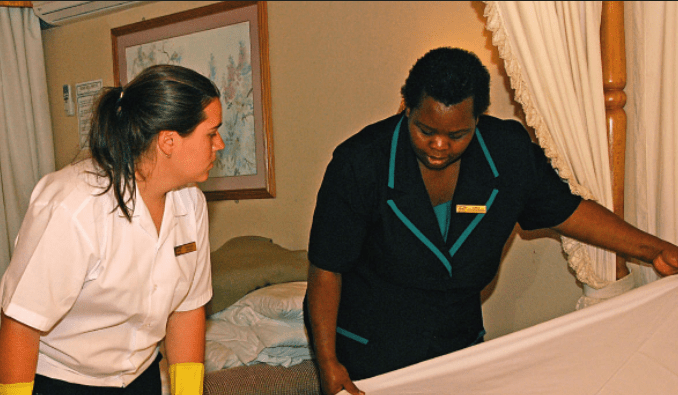 Have you ever wondered how or what to sell to hotels in Africa? Hotels – especially the large hotel chains – can be a powerful market segment for your business, as they buy products and services from people like you. In an article by the Financial Times titled: "Africa is new battleground for global hotel industry", Michael Wale, head of Europe, Africa and Middle East at Starwood said: "Honestly, I think Africa is the next big thing". And this is why I want to make you aware of this in today's post, because it is a market trend you should not miss!
Africa's travel industry is growing fast, with the majority being domestic and regional travel within Africa. But also international travel is increasing and several African airlines have added new routes to their flight schedules in the last few months.
Last year, several publications reported that nearly 200 new luxury hotels with a total of 40,000 rooms were already in the pipeline for Africa right now. And you should consider this and be ready to sell to them!
During my recent trip to Nairobi, I wanted to find out more about how these hotel chains work, what they buy, and from whom they buy it.
So I arranged a chat with one of the hotel sales managers. She had not discussed the interview with her boss, as it was scheduled at short notice, and while she was happy to give me information, she asked me to not publish the hotel name, which I respect.
For this reason let me start with: I stayed in one of Kenya's leading 4* hotel chains. They do have a couple of hotels in Nairobi, but also in Massai Mara and a resort in Mombasa.
My research actually started in my hotel room. Here is what I found:
The crisps where made in Kenya, the coffee cream was from South Africa, the green tea from Tanzania and the small shampoo boxes and body lotion from China. I found that very interesting and this is how I started my chat with the sales manager. Here are the rare insights I received in one of Kenya's leading hotels and I am sure the situation is similar elsewhere in Africa.
1. Food is largely bought locally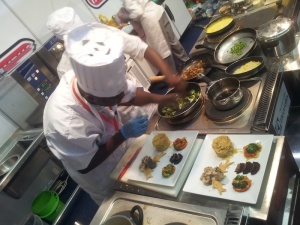 The Kenyan 4* hotel chain bought almost all of the food locally. This provides incredible business relations for local producers and food processing companies. Indeed, even the wildflower honey, the marmalade, and yoghurt at the breakfast table were produced in Kenya (as the printed labels showed). Yes, also the Indian spice mixes for the Indian dishes on the menu.
Diary products, strawberries, and mushrooms are in demand, and other fruits such as mangoes during the dry season, I was told. Eating breakfast and sometimes dinner at the hotel I see products unusual for Africa: Asparagus, chocolate pastries, tofu (in the Indian dish), mortadella, cherry tomatoes, a variety of breakfast cereals including musli (I found musli in a large Nairobi supermarket imported from South Africa for US$5! – so it certainly does not come cheap for the hotel)
What that means for your business: The market in Kenya may be somewhat competitive in this regard, but not all African countries produce (and process!) food locally as efficient as Kenya. And these gaps provide an incredible opportunity for you! Think of growing certain crops and/or processing food to high standard, so you can approach hotels in Africa, especially the ones that are being newly built as you read this.
2. What the hotel is looking for in sellers and products
The sales manager was very clear about this:" Everyone is welcome to come to our hotel and offer what they have, but we have strict guidelines." She summed it up as a combination of:
Best price
Obviously the hotel is a business and they want to buy at the lowest price without compromising the quality of the products they are looking for.
Best quality
The quality of your produce is important to the hotel. Much of what they buy is grown under greenhouse conditions, which usually produces better (looking) quality. I am told that the hotel buys a lot of organic produce.
Reliability and consistency
The hotel has to be sure that you as the seller are reliable and that you can consistently deliver both qualitatively and quantitatively.
Price stability
This is an important factor. 'He may sell it to me for 20 shilling and next year increases the price to 40. That is not possible", the manager says. "We are looking for a certain price stability."
Standard
The hotel makes sure that you meet general health standards and that you do not grow your crops 'next to sewage' or use harmful fertilizers. The manager says they send someone to the crop to check it, before they sign any deal with you.
What that means for your business: Keep those important points in mind, these are rare and precious insights and just knowing them may give you a competitive advantage to others who try to sell to the same hotel! Don't act too fast to approach the hotel and remain consistent once you do business with them or you could lose the deal. The right approach would be to ask for an appointment with the sales team to introduce your product, but make sure you can deliver on the points above before you do! And do some research if possible. So if you are interested in selling your honey, marmalade, breakfast cereal, or tea brand to the hotel have breakfast there or spend a night to find out more about the products they serve and where they come from – because that's your competition already in action.
If you are planning to sell raw produce such as vegetables or berries, consider producing them under greenhouse conditions or use protective nets. If you need bulk, think of forming a village cooperative who grows what you want to sell.
3. Why hotels import soap, linen, and conference tables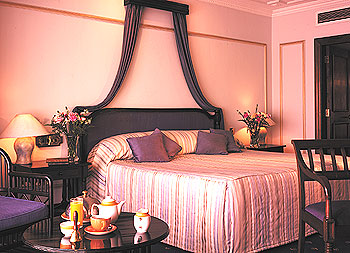 I was told that some items were regularly imported from abroad, mainly China. These include soaps, lotions, shampoos, bed linen, towels, and furniture. I asked about the little yellow square soaps in my bathroom that had a simple paper band stripped around them – they looked hand cut and I was unable to wash the soap of quickly, it was somehow sticky to the skin. Product of Kenya? I asked. No, China. I was surprised. All skin care products were imported. Why? I asked. Would it not be simple for Kenyans to produce that themselves? Yes they do, but we buy that in bulk and get it very cheap from China. In Kenya a little hotel-sized shampoo box may cost us 20 Shilling. In China it costs us 1. Add 5 Shilling to that for transport and China has the price advantage, I was told.
Linen and towels were also available cheaper abroad. Hmm….I wonder if Ethiopia with its new quest to build a globally competitive apparel manufacturing industry would be able to beat Chinese prices in the near frture. It may be worth looking into, especially if you want to import into the East African region where you can cut transport costs.
The furniture was simply of much higher quality abroad, I heard. So much so that it was worth to import it as it looked better and lasted longer.
What that means for your business: It means that you have a far better chance to sell food products to hotel than local skin care or furniture products. Having said that, the situation may look slightly different in land locked countries where you need to pay additionally for transport and tax duty to get that soap to the hotel. But the call is tight, so you need to be able to offer somewhat in bulk or find very cheap production methods in Africa to be competitive in this regard. Back to our research – book a night in a couple of 4* hotel rooms and find out where their bathroom products come from.
4. Hotels buy items with an African touch
The sales manager explained that the hotel does however buy ornaments, paintings, lamps, and even some furniture with an African looking touch for certain rooms or hotel branches. This was particularly true for the safari resorts. Many items there were produced in Kenya or other African countries.
What that means for your business: If you are into fine arts, wood work, or leather production you may want to consider hotels and resorts as potential buyers.
5. Brand importance at hotels
And some items are simply must-have brand items for upper-market hotels in order to keep their image for best quality alive. No, the hotel would not consider to buy locally produced ketchup or chilli sauce, which were available in Nairobi, it was likely to stick with imported Heinz Ketchup and Tabasco, as the quality was better. The same was the case for alcoholic beverage and Pringles chips which were placed in the room mini bar next to the local package. They were the guests' favorites.
What that means for your business: I think even here is an opportunity. Because some very popular food brand items abroad may still find a market here if you are interested in getting into imports-exports. What about a selection of fine chocolate from Germany's Lindt or Swiss Toblerone – The prices of that at Nairobi's airport where 3 times what you would pay in Europe and you could not get any of the famous chocolate bars in the supermarkets I checked (remember, all in the name of research and business…not because I fancied some chocolate :).
6. Offer the hotel a new experience for their guests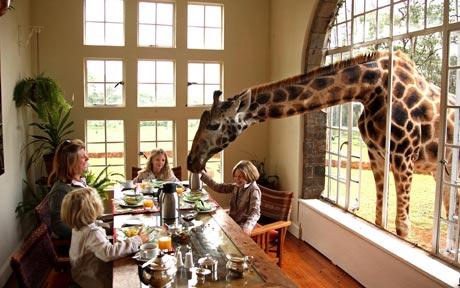 But there are many more business ideas and services you could offer the hotel sales management in Africa. Don't forget that hotels are not only selling rooms to sleep in and conference halls, they are selling an experience. Here are just a few ideas how to convince the hotel to provide a better experience for their guests:
Massage and beauty treatment service (the hotel I stayed in had that extensively and I think they were not staff, as the main beauty therapist was an East Asian lady with her own office)
Entertainment (at my hotel a band played every Friday live music at the restaurant), and conferences organizers who use the hotel's premises will frequently ask for entertainment and MCs.
An exhibition of local paintings. This is something I regularly used to see and love some years ago at the former Intercontinental Hotel in Asmara, Eritrea. It adds to the experience the guests have, and even prompts some local people who want to see the exhibition to have lunch at the hotel. So a win-win situation for all. You may be an artist selling your paintings this way or you can regularly arrange that for local artists as an additional income stream for yourself.
A jewellery exhibition
Cinema night
Fitness and dance if the hotel has the right premises for that
Business and tour services
To make this truly profitable you will need to win several hotels as clients. Or you add a couple of hotels to other market segments you are selling to.
I hope you found this post useful. Don't forget that 200 more hotels are planned across Africa right now, and if you have the right product consider stepping into this fast growing African market to sell!
Keep marching with your Africa business venture, you'll get there in the end!
Dear Africa Business Jumpstart Community, please leave your comments in the section below, so we can share, engage, connect, and learn.
And still. Let's be defined what dosage in this case approaches most of all. There can be it cialis 20mg or something another. To me I think it isn't necessary to choose for you necessary. Think. Perhaps suits you cialis 20 mg It is much better.