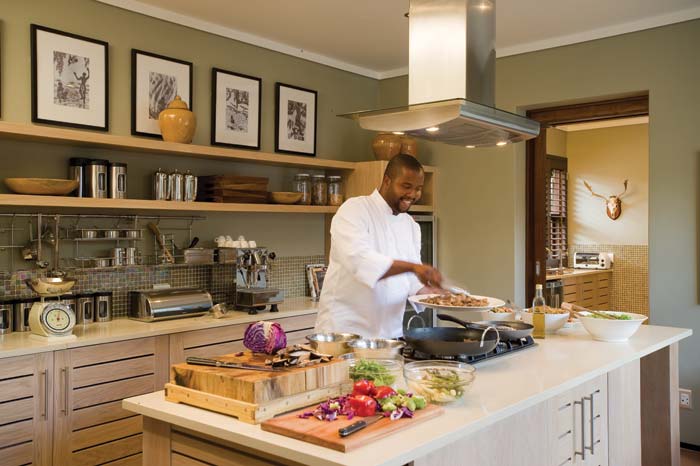 Is there something like an 'African Super-Business' concept? Well, I am deciding there is: It is a business concept that taps into not just one but multiple of Africa's top sectors and drivers…..and not only that, but it does so without the need for major investment (which helps when you do not have much money to get you started).
Take today's 'African Super-Business' concept: Producing your own food brand.
Yes indeed, in a kitchen somewhere in Africa!
This particular concept is powerful, because you are stepping right into the following key economic drivers and market trends in Africa:
Agriculture: You are deriving your food ingredients from a sector that will see huge growth and investment in the next years.
Manufacturing: Food processing and manufacturing is seen widely as a key engine to Africa's growth for years to come. You may start in your kitchen, but that does not mean you cannot grow into a leading food processing company in the future.

Fast Moving Consumer Products: Africa's fast growing consumer market wants your food products – this gives you a very high ceiling as to how far you can expand product sales nationally and cross-borders.
African brands: African consumers are increasingly quality and brand aware – you are tapping right into that trend by building your own African brand.
Niche market: You need to produce a food product that is not widely to be found in Africa. You can own that particular market much faster as barely any competition is waiting for you.
Being aware of the broader market context in Africa is what many who are starting out on the continent are completely missing. Yet it will help you to be more strategic about your business decisions enabling you to increase your success rate and mitigate risks.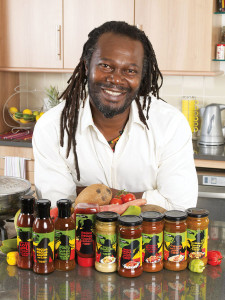 Now, before I tell you how you can start building an African food brand in your own kitchen next week, let me share a story. Some of you who reside in the UK may remember Levi Roots, the Jamaican dad who featured on Dragon's Den – a business investment TV show – with his Reggae Reggae Sauce. Levi came from poor upbringings in Jamaica and came to the UK where he took on simple jobs, became a father of 7 children, and resided in Brixton in South London, which has a large African Diaspora Community. He had received this secret recipe for a Jamaican chilli sauce from his grandma and started producing this in his….yes, you guessed it…..own kitchen. He packed it then all into a backpack and sold it on local markets in his area. 
To make a long story short: He produced and bottled the sauce himself and one day started showcasing it at a food exhibition where he was 'discovered' by a food company (who made a first order with him) and the BBC who invited him to the TV Show Dragon's Den where he – with his last £20 Dollars for the month in his pocket – pitched for £50,000. Levi got the money. He had prior to his show also received some expression of interest from Sainsbury's, the UK's 3rd largest supermarket chain.
Today his Reggae Reggae Sauce Company is worth about £8 Million (over 13 Million US Dollar). Sainsbury's reports that Levi's chilli sauce regularly outsells tomato Ketchup brands in its 600 nationwide stores. Levi made it big, as a man from a minority group getting into an extremely competitive market in the West. Now, Africa is an open playing field in this regard and I believe that you can make it, too.
What do you need?
Well passion above all and just a few ingredients you can get at any local market in Africa. You will also need some kitchen utensils and basic packaging. Some food products may require a glass or plastic container with a lid, which can be a little more difficult to get. The rest of the items can really be packed into plastic foil which you seal together in the end. If you can get extra cartoon packaging you can use that additionally. And you need sticky labels with your own brand logo on it! Not just your brand name, but your recognizable logo!
So shall we get started cooking?
Here are a few ideas of niche products that can be easily prepared and packed in your own kitchen.
1) Marmalade
Get fruits and sugar and start cooking away. It is so simple to make home-made marmalade and it would fill a gap in many African supermarkets where you often get no marmalade or (sorry, no offense) awfully tasting and expensive imports. You may not get strawberries all the time, so you can also cook Mango marmalade, or try out other locally available fruits. The Internet is full of recipes, but running your own tests and tasting is important for perfection. You could also market it to hotel chains, as they usually offer a European breakfast with bread and marmalade.

2) Ready-Made Cake Mix
Many African women don't know how to bake Western style cakes or do not have the confidence or time. Why don't you offer delicious ready made cake mixtures? Your customers just need to add eggs and milk and the cake is ready to go into the oven. You could also produce pan-cake mixtures – French or American style; kids would love it! I know for a fact, because I baked them regularly when I lived in Eritrea and my pancakes always were the hit with the whole family.

3) Peanut Butter
It may be available a bit wider, so not ideal for each market. But it is one of the simplest food to make. You basically just need a mixing machine, throw the peanuts in and go! 3 Minutes later you got your peanut butter. Now think about how to sell it as something unique. Why not add a few special ingredients and sell it as 'Original American Peanut Butter' with the American flag on it. I know, this may not be to everyone's taste, hey it's made in Africa, and I hope you got my point: 'Stand out" in your local market, don't blend in!
4) Tortellini
It is so simple to make your own pasta dough. Just make some dried tomato & herbs or spinach & cheese mixture, fill up the small squares, and produce the tortellini shape. Tortellini are hardly available across Africa – yet so delicious and certainly popular with many people.
5) Fish fingers
Fish fingers are one of the top food choices of children in the West and I think they would go down well with the city children in Africa's middle class. Fish farming is becoming big business in some African countries – yet fish fingers are not to be found a lot. You just need to cut the fish into the right finger-sizes and coat them with breadcrumbs. Ready to freeze.
Of course there are certain health-& safety standards to look out for and you need to inform yourself how to seal or store certain foods so they are safe and have a longer shelve-life. But you will be able to find plenty of information in this regard online.
The ideas for starting a simple food processing business in your kitchen for Africa's market is endless. And I would stick with somewhat rare niches….sushi, mayonnaise, musli mixture, lasagne sheets…. you name it.

If you choose the right products for your local market, you can start on a shoe string budget and possibly even diversify your product range as you go along. If you then get onto various platforms, such as local food expos, to increase your visibility and you market efficiently you can grow your humble start into a very lucrative business that can change your life around.

I only say: Reggae -Reggae-Sauce-style.
Now, do you think it can be done? Feel free to leave your comments below.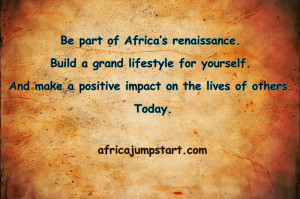 (Cover photo credit: signatureresidencesworldwide.com)
And still. Let's be defined what dosage in this case approaches most of all. There can be it cialis 20mg or something another. To me I think it isn't necessary to choose for you necessary. Think. Perhaps suits you cialis 20 mg It is much better.