There are certain African business opportunities that are repeatedly mentioned by Africa business news, government, and online communities and it is my job at Africa Business JumpStart to make you aware of those.
One of those industries is fish farming. You may have never thought of it as an option, but I think becoming a successful entrepreneur is seeking out profitable business potential in an area that ticks most of the boxes for you personally and at the same time being brave enough to try something new. Fish farming is certainly not for people who love to dress in nice suits and work on the computer, it's more an adventurous business at the very heart of Africa's rural communities. But with great success potential to become profitable in a short period of time. I have read stories about simple African fish farmers who bought more land and expanded using the profits of the first year .
So let's have a look at the range of great benefits. Here they are:
1. Full government support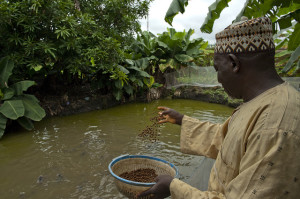 As the population in Africa is growing and the request for food and protein intake is rapidly increasing, governments pay greater attention to national food security.
As a result, several governments in Africa's emerging economies are actively promoting fish farming and pledging full support to related ventures. I cannot stress enough how beneficial it is in Africa to open a business in a sector that receives full government support, it is a factor that can potentially accelerate your success rate and mitigate risks.
The Times of Zambia just reported again two days ago that the Agriculture and Livestock permanent secretary David Shamulenge wants Zambians to take up fish farming. He said: "As Government, we want to strengthen the fish sector in the country and put up the necessary regulations required in protecting the sector." Here we go, that's precisely why it is of benefit in Africa to open a business that fits into the national development agenda of respective governments.
Fish farming is increasingly promoted in Kenya, Uganda, Ghana, and Nigeria among other countries.
2. Multiple and easy ways to set up your fish farm 
Technically, there are several ways to set up a fish farm and direct access to marine waters or even lakes and rivers is not necessary. You can of course build fish farm cages in natural waters if you have access to them locally or you can simply build a fish pond. There are fish ponds that are built into the land and water flows into the pond because it is situated within the wider catchment area of a river. But there are various other ways in which you can let water into the pond.
Some ponds are simply a cement construction on the surface of the land and fish hatching is managed in simple plastic buckets; an entrepreneur in South Africa even brought fish farming into the city in shipping containers.
I posted a couple of videos below (one from Kenya and one from Nigeria), which give a valuable insight into local fish farming and the techniques. One is in Swahili with English under titles containing great tips provided by a trainer, so it helps your understanding of what fish farming entails and how you can start small.
3. Growing opportunities for your business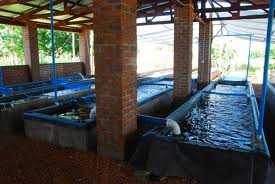 The opportunities are vast. Fish farming is now apparently one of the fastest growing agricultural sub-sector in many African countries and across the world, in particular in the countries of the far East.
I think the wonderful benefit of this sector is that your business would instantly create job opportunities locally within the rural communities and you can serve local, regional, and export markets.
In Nigeria the vivid discussions about fish farm opportunities even reaches popular online forums such as Nairaland.com. And in an interview for Punch.ng back in January a Nigerian fish farmer provided the following insights: "You see, fish is peculiar in a lot of ways that Nigerians do not realise. The beauty of fish farming is that it has no season; it is all-year-round. Furthermore, to bridge the gap created by the 25 per cent cut in importation, more people are needed to invest in the business. Secondly, fish is faster than cocoa, cassava and all other agricultural exports. The market for fish in Nigeria is larger than any other agricultural commodity.
Over N100bn is spent on fish importation annually. Yet in this country, we have all the resources to grow fish abundantly. Countries situated in arid zones still grow fish. So why can't Nigerians grow fish? In the past, Nigerian fish farmers produced only 20 to 30 per cent of their capacities because they could not sell their fish as a result of foreign invasion. But that is fast changing."
I think that sums the situation up beautifully.
But the situation across countries varies a lot. Uganda for example is already exporting its fish, which contributes significantly to the country's GDP. But the government still wants to revive the industry and Uganda's Investment Authority states that aquaculture parks and fish farming to be established under a new policy will be open to all categories of investors, regardless of nationality. This is also good news to the African Diaspora and non-Africans looking for opportunities on the ground and I am sure there is a similar open policy in several countries.
By the way, one point I want to make is that I should have mentioned fish farming in my recent post 'I own some land – how do I start a profitable African business with it?' I will make sure I add a link to this post here. So do you own some land or could get access to it? Why not start a fish farm on it? You could soon be selling to hotels and restaurants or add value by producing your own branded fish fingers and sell them frozen – how simple. Remember to find your niche. And convenient fast food is on the increase in Africa's middle class.
Please feel free to leave your comments below!
And still. Let's be defined what dosage in this case approaches most of all. There can be it cialis 20mg or something another. To me I think it isn't necessary to choose for you necessary. Think. Perhaps suits you cialis 20 mg It is much better.