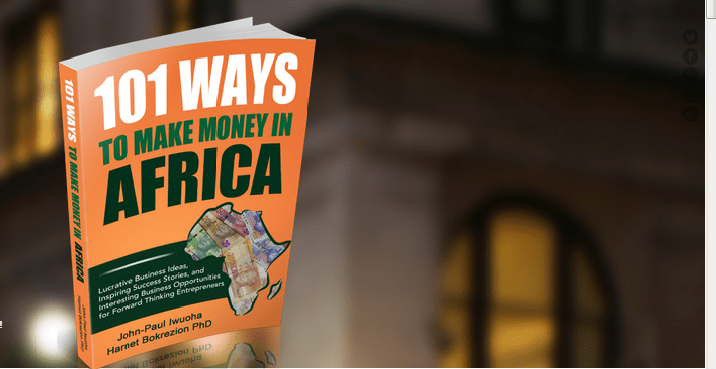 Finally, our book is out! "101 Ways To Make Money In Africa" is the most comprehensive book on Africa business ideas, African market insights, success stories, business concepts & actionable tips you will find – anywhere! We hope the book will help you to get on the right path FAST – Don't delay your Africa business start up plans any further, because Africa's markets are visibly getting more crowded. You need to act now – but the right way: Informed and confidently!

To make it more convenient for you, we have designed a book site entailing all the details of the book and instant download options.
CLICK ON THIS LINK:
It's been a long journey for my much admired Nigerian business partner, John-Paul from smallstarter.com and myself, but finally…over 300 book pages later…..we got there!
We want to thank everyone who took part in our surveys to make suggestions for the book and for the trust and great support you have shown us. We incorporated several of your concerns and suggestions.

If you are on my or John-Paul's e-mail list you will have received a heads up in your inbox, but we want everyone to be able to make the most of it, so I am posting here for the entire Africa Business Jumpstart community and new visitors.
The book is now on offer for a special launch price, which we will close in a few days. And it comes with bonuses and extras you can choose from.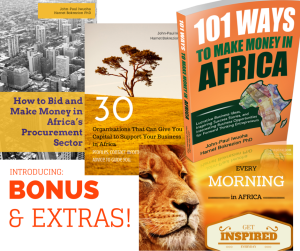 Ways to make money in Africa
Here is an outline taken of the book's introductory part:
"Each of our 101 business ideas presents a strong case. And here is how:
Market context
We are starting with an outline of an overall market potential for each idea. Here you will understand why this idea is powerful, what the current market dynamics are, and which trends you can expect. In short, this is the powerful Africa context for the idea.
Business Concept
Here you receive guidance as we introduce several business models, suggesting which one would work best and why. Take tomatoes as an example: You can plant them, you can export them, or process them into ketchup… different business concepts for the same product. We will point out why some business concepts will be smarter than others.
Niche ideas
We strongly believe in the power of finding your own rare niche in Africa's markets. It is usually less competitive and has the great advantage that you succeed faster. Carving out a rare niche for yourself usually allows you to become a big fish in a small pond, own that niche, and become the go-to-person in that market. Using simple bullet points we have suggested rare niches for each idea.
Countries & Policies
Here we let you know why certain countries are your best bet to realize a particular business idea – this is often directly linked to enabling policies in a certain sector.
Action Tips
We want you to be able to get started without delay, so we have laid out some practical action tips, links and contacts, and resources you can use to drive a particular business idea forward and turn it into an actual startup.
Success Stories
Most business ideas are accompanied by a real success story where we briefly demonstrate how a certain Africa entrepreneur has already turned that particular idea into a great success and how it all began."
If this will help you make better and more informed startup decisions, the money and time you spend for the book will be the best investment made.
We offer it right now at a special launch price for a few more days.
Here again is the link to the book site "101 Ways To Make Money In Africa": africa101book.com
Happy reading and keep marching on your path to success in Africa!
And still. Let's be defined what dosage in this case approaches most of all. There can be it cialis 20mg or something another. To me I think it isn't necessary to choose for you necessary. Think. Perhaps suits you cialis 20 mg It is much better.